MBTA COMMUTER RAIL SERVICE
MBTA Commuter Rail Service
Summer 2020 schedule, effective June 22, 2020
All riders must continue using face coverings when on the MBTA. Full details: mbta.com/coronavirus
Inbound to Boston
| Leave Foxboro | Arrive at South Station |
| --- | --- |
| 5:47 AM | 6:52 AM |
| 7:23 AM | 8:30 AM |
| 8:19 AM | 9:23 AM |
| 10:29 AM | 11:30 AM |
| 1:29 PM | 2:30 PM |
| 4:32 PM | 5:33 PM |
| 5:29 PM* | 6:20 PM |
| 6:34 PM | 7:36 PM |
| 8:07 PM* | 8:53 PM |
| 9:49 PM | 10:50 PM |
*denotes stop at Back Bay
Outbound to Foxboro
| Leave South Station | Arrive at Foxboro |
| --- | --- |
| 6:03 AM | 6:59 AM |
| 7:05 AM | 8:06 AM |
| 8:50 AM | 9:40 AM |
| 11:45 AM | 12:43 PM |
| 2:45 PM | 3:52 PM |
| 4:10 PM | 5:16 PM |
| 5:00 PM | 6:07 PM |
| 6:30 PM | 7:37 PM |
| 8:15 PM | 9:19 PM |
| 10:00 PM | 10:56 PM |
Trains between Foxboro and South Station travel on the Franklin Line. Additional information at www.mbta.com/foxboro
All commuters can pay for parking in just a few quick steps using PayByPhone! PayByPhone can be used through an app available for download from the Apple and GooglePlay stores or via the PayByPhone website. Users must first register for an account with their payment and vehicle information. Upon parking their vehicle at Foxboro Station, commuters will put in the proper Foxboro Station location number 1792, select the amount of days the car will be parked in that location (up to 5) and confirm the payment. Failure to use PayByPark after parking will result in an increased rate billed through the mail.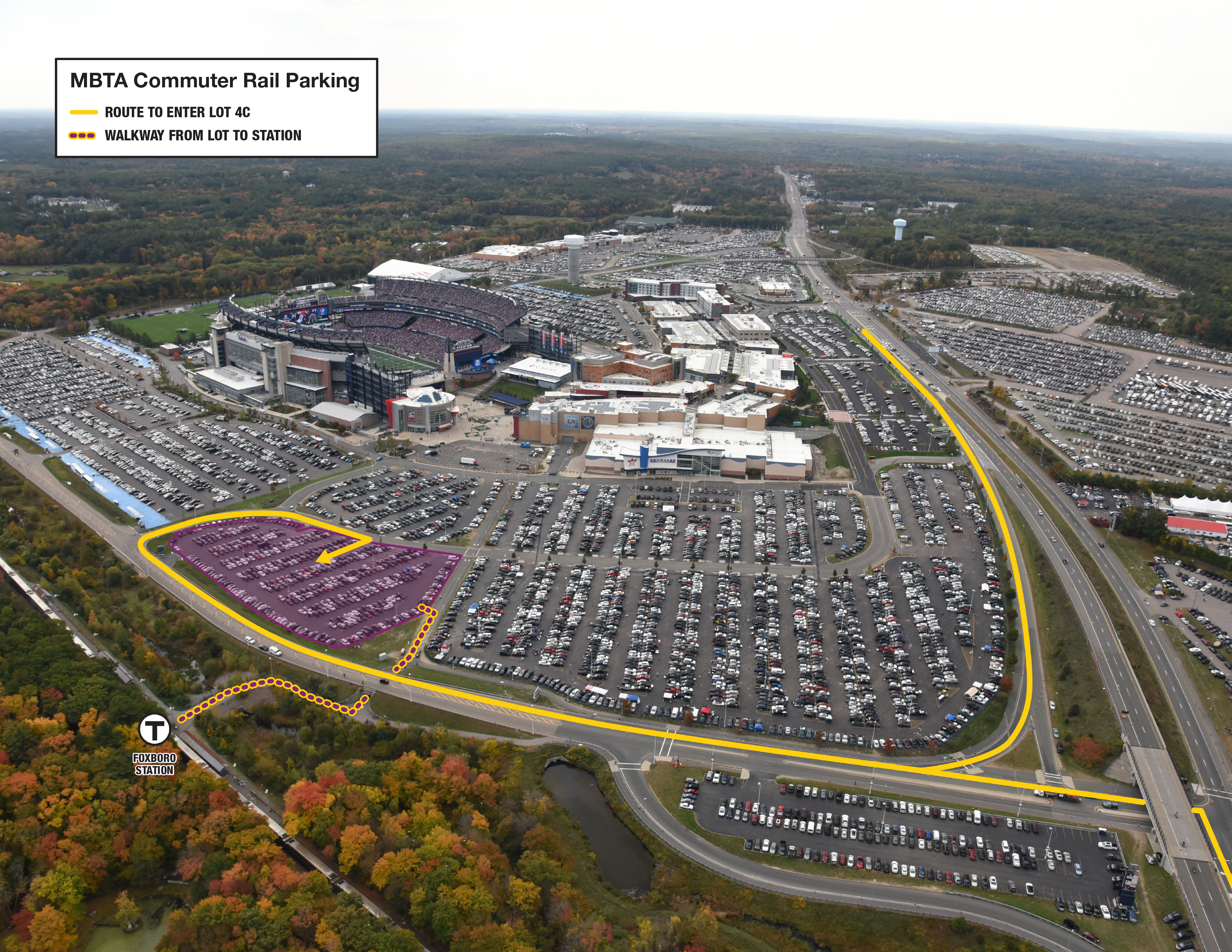 Stay Connected: Pilot Program Updates
To receive updates about the new commuter rail service coming to Foxborough, please register for email updates by completing the form below. For more information about the new service, please visit www.mbta.com/foxboro.