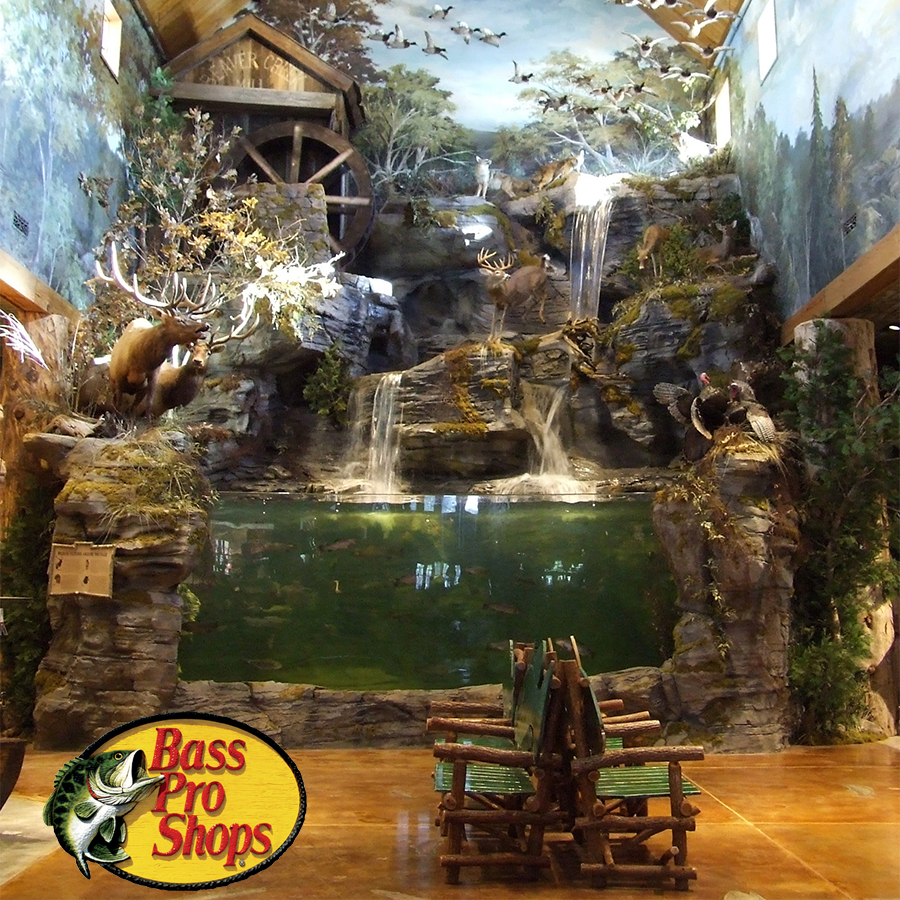 16Jul(Jul 16)6:30 PMBass Pro Shops - Aquarium and Fish Feeding6:30 PM EST Bass Pro Shops, 1 Bass Pro DriveEnjoyment:Attractions,Educational,Perfect Season® EventEvents:Bass Pro Event,Featured Perfect Season® Event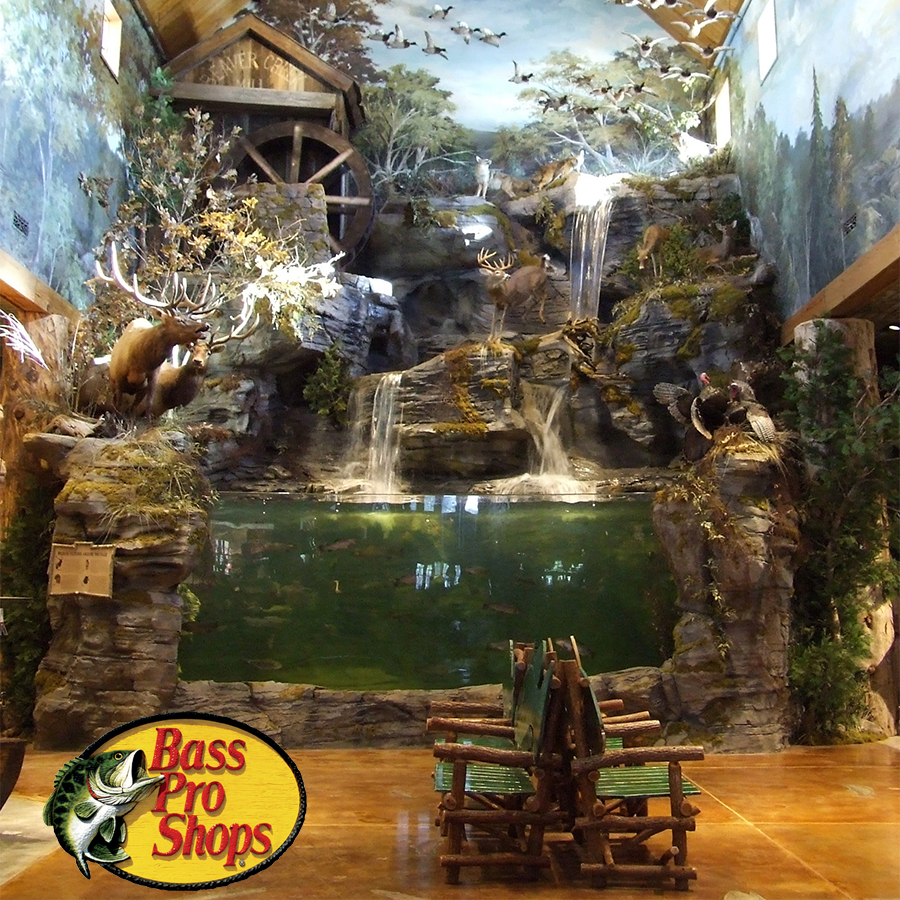 Event Details

Tuesdays, Thursdays & Saturdays

Calling all aquarium lovers!

Join Bass Pro Shops every Tuesday and Thursday at 6:30 PM, and Saturdays at 1:30 PM for their live fish feedings and informational demonstrations at the 34,000 gallon freshwater aquarium.

The aquarium is filled with over 400 native New England fish. Other water features include a 5,500 gallon turtle pond and a 3,800 gallon trout pool.

Times subject to change. Questions? Call (508) 216-2000.
Future Event Times in this Repeating Event Series
July 18, 2019 6:30 PMJuly 23, 2019 6:30 PMJuly 25, 2019 6:30 PMJuly 30, 2019 6:30 PMAugust 1, 2019 6:30 PMAugust 6, 2019 6:30 PMAugust 8, 2019 6:30 PMAugust 13, 2019 6:30 PMAugust 15, 2019 6:30 PMAugust 20, 2019 6:30 PMAugust 22, 2019 6:30 PMAugust 27, 2019 6:30 PMAugust 29, 2019 6:30 PMSeptember 3, 2019 6:30 PMSeptember 5, 2019 6:30 PMSeptember 10, 2019 6:30 PMSeptember 12, 2019 6:30 PMSeptember 17, 2019 6:30 PMSeptember 19, 2019 6:30 PMSeptember 24, 2019 6:30 PMSeptember 26, 2019 6:30 PMOctober 1, 2019 6:30 PMOctober 3, 2019 6:30 PMOctober 8, 2019 6:30 PMOctober 10, 2019 6:30 PMOctober 15, 2019 6:30 PMOctober 17, 2019 6:30 PMOctober 22, 2019 6:30 PMOctober 24, 2019 6:30 PMOctober 29, 2019 6:30 PMOctober 31, 2019 6:30 PMNovember 5, 2019 6:30 PMNovember 7, 2019 6:30 PMNovember 12, 2019 6:30 PMNovember 14, 2019 6:30 PMNovember 19, 2019 6:30 PMNovember 21, 2019 6:30 PMNovember 26, 2019 6:30 PMNovember 28, 2019 6:30 PMDecember 3, 2019 6:30 PMDecember 5, 2019 6:30 PMDecember 10, 2019 6:30 PMDecember 12, 2019 6:30 PMDecember 17, 2019 6:30 PMDecember 19, 2019 6:30 PMDecember 24, 2019 6:30 PMDecember 26, 2019 6:30 PMDecember 31, 2019 6:30 PMJanuary 2, 2020 6:30 PMJanuary 7, 2020 6:30 PMJanuary 9, 2020 6:30 PMJanuary 14, 2020 6:30 PMJanuary 16, 2020 6:30 PMJanuary 21, 2020 6:30 PMJanuary 23, 2020 6:30 PMJanuary 28, 2020 6:30 PMJanuary 30, 2020 6:30 PMFebruary 4, 2020 6:30 PMFebruary 6, 2020 6:30 PMFebruary 11, 2020 6:30 PMFebruary 13, 2020 6:30 PMFebruary 18, 2020 6:30 PMFebruary 20, 2020 6:30 PMFebruary 25, 2020 6:30 PMFebruary 27, 2020 6:30 PMMarch 3, 2020 6:30 PMMarch 5, 2020 6:30 PMMarch 10, 2020 6:30 PMMarch 12, 2020 6:30 PMMarch 17, 2020 6:30 PMMarch 19, 2020 6:30 PMMarch 24, 2020 6:30 PMMarch 26, 2020 6:30 PMMarch 31, 2020 6:30 PMApril 2, 2020 6:30 PMApril 7, 2020 6:30 PMApril 9, 2020 6:30 PMApril 14, 2020 6:30 PMApril 16, 2020 6:30 PMApril 21, 2020 6:30 PMApril 23, 2020 6:30 PMApril 28, 2020 6:30 PMApril 30, 2020 6:30 PMMay 5, 2020 6:30 PMMay 7, 2020 6:30 PMMay 12, 2020 6:30 PMMay 14, 2020 6:30 PMMay 19, 2020 6:30 PMMay 21, 2020 6:30 PMMay 26, 2020 6:30 PMMay 28, 2020 6:30 PMJune 2, 2020 6:30 PMJune 4, 2020 6:30 PMJune 9, 2020 6:30 PMJune 11, 2020 6:30 PMJune 16, 2020 6:30 PMJune 18, 2020 6:30 PMJune 23, 2020 6:30 PMJune 25, 2020 6:30 PMJune 30, 2020 6:30 PMJuly 2, 2020 6:30 PMJuly 7, 2020 6:30 PMJuly 9, 2020 6:30 PMJuly 14, 2020 6:30 PMJuly 16, 2020 6:30 PMJuly 21, 2020 6:30 PMJuly 23, 2020 6:30 PMJuly 28, 2020 6:30 PMJuly 30, 2020 6:30 PMAugust 4, 2020 6:30 PMAugust 6, 2020 6:30 PMAugust 11, 2020 6:30 PMAugust 13, 2020 6:30 PMAugust 18, 2020 6:30 PMAugust 20, 2020 6:30 PMAugust 25, 2020 6:30 PMAugust 27, 2020 6:30 PMSeptember 1, 2020 6:30 PMSeptember 3, 2020 6:30 PMSeptember 8, 2020 6:30 PMSeptember 10, 2020 6:30 PMSeptember 15, 2020 6:30 PMSeptember 17, 2020 6:30 PMSeptember 22, 2020 6:30 PMSeptember 24, 2020 6:30 PMSeptember 29, 2020 6:30 PMOctober 1, 2020 6:30 PMOctober 6, 2020 6:30 PMOctober 8, 2020 6:30 PMOctober 13, 2020 6:30 PMOctober 15, 2020 6:30 PMOctober 20, 2020 6:30 PMOctober 22, 2020 6:30 PMOctober 27, 2020 6:30 PMOctober 29, 2020 6:30 PMNovember 3, 2020 6:30 PMNovember 5, 2020 6:30 PMNovember 10, 2020 6:30 PMNovember 12, 2020 6:30 PMNovember 17, 2020 6:30 PMNovember 19, 2020 6:30 PMNovember 24, 2020 6:30 PMNovember 26, 2020 6:30 PMDecember 1, 2020 6:30 PMDecember 3, 2020 6:30 PMDecember 8, 2020 6:30 PMDecember 10, 2020 6:30 PMDecember 15, 2020 6:30 PMDecember 17, 2020 6:30 PMDecember 22, 2020 6:30 PMDecember 24, 2020 6:30 PMDecember 29, 2020 6:30 PMDecember 31, 2020 6:30 PMJanuary 5, 2021 6:30 PMJanuary 7, 2021 6:30 PMJanuary 12, 2021 6:30 PMJanuary 14, 2021 6:30 PMJanuary 19, 2021 6:30 PMJanuary 21, 2021 6:30 PMJanuary 26, 2021 6:30 PMJanuary 28, 2021 6:30 PMFebruary 2, 2021 6:30 PMFebruary 4, 2021 6:30 PMFebruary 9, 2021 6:30 PMFebruary 11, 2021 6:30 PMFebruary 16, 2021 6:30 PMFebruary 18, 2021 6:30 PMFebruary 23, 2021 6:30 PMFebruary 25, 2021 6:30 PMMarch 2, 2021 6:30 PMMarch 4, 2021 6:30 PMMarch 9, 2021 6:30 PMMarch 11, 2021 6:30 PMMarch 16, 2021 6:30 PMMarch 18, 2021 6:30 PMMarch 23, 2021 6:30 PMMarch 25, 2021 6:30 PMMarch 30, 2021 6:30 PMApril 1, 2021 6:30 PMApril 6, 2021 6:30 PMApril 8, 2021 6:30 PMApril 13, 2021 6:30 PMApril 15, 2021 6:30 PMApril 20, 2021 6:30 PMApril 22, 2021 6:30 PMApril 27, 2021 6:30 PMApril 29, 2021 6:30 PMMay 4, 2021 6:30 PMMay 6, 2021 6:30 PMMay 11, 2021 6:30 PMMay 13, 2021 6:30 PMMay 18, 2021 6:30 PMMay 20, 2021 6:30 PMMay 25, 2021 6:30 PMMay 27, 2021 6:30 PMJune 1, 2021 6:30 PMJune 3, 2021 6:30 PMJune 8, 2021 6:30 PMJune 10, 2021 6:30 PMJune 15, 2021 6:30 PMJune 17, 2021 6:30 PMJune 22, 2021 6:30 PMJune 24, 2021 6:30 PMJune 29, 2021 6:30 PMJuly 1, 2021 6:30 PMJuly 6, 2021 6:30 PMJuly 8, 2021 6:30 PMJuly 13, 2021 6:30 PMJuly 15, 2021 6:30 PMJuly 20, 2021 6:30 PMJuly 22, 2021 6:30 PMJuly 27, 2021 6:30 PMJuly 29, 2021 6:30 PMAugust 3, 2021 6:30 PMAugust 5, 2021 6:30 PMAugust 10, 2021 6:30 PMAugust 12, 2021 6:30 PMAugust 17, 2021 6:30 PMAugust 19, 2021 6:30 PMAugust 24, 2021 6:30 PMAugust 26, 2021 6:30 PMAugust 31, 2021 6:30 PMSeptember 2, 2021 6:30 PMSeptember 7, 2021 6:30 PMSeptember 9, 2021 6:30 PMSeptember 14, 2021 6:30 PMSeptember 16, 2021 6:30 PMSeptember 21, 2021 6:30 PMSeptember 23, 2021 6:30 PMSeptember 28, 2021 6:30 PMSeptember 30, 2021 6:30 PMOctober 5, 2021 6:30 PMOctober 7, 2021 6:30 PMOctober 12, 2021 6:30 PMOctober 14, 2021 6:30 PMOctober 19, 2021 6:30 PMOctober 21, 2021 6:30 PMOctober 26, 2021 6:30 PMOctober 28, 2021 6:30 PMNovember 2, 2021 6:30 PMNovember 4, 2021 6:30 PMNovember 9, 2021 6:30 PMNovember 11, 2021 6:30 PMNovember 16, 2021 6:30 PMNovember 18, 2021 6:30 PMNovember 23, 2021 6:30 PMNovember 25, 2021 6:30 PMNovember 30, 2021 6:30 PMDecember 2, 2021 6:30 PMDecember 7, 2021 6:30 PMDecember 9, 2021 6:30 PMDecember 14, 2021 6:30 PMDecember 16, 2021 6:30 PMDecember 21, 2021 6:30 PMDecember 23, 2021 6:30 PMDecember 28, 2021 6:30 PMDecember 30, 2021 6:30 PMJanuary 4, 2022 6:30 PMJanuary 6, 2022 6:30 PMJanuary 11, 2022 6:30 PMJanuary 13, 2022 6:30 PMJanuary 18, 2022 6:30 PMJanuary 20, 2022 6:30 PMJanuary 25, 2022 6:30 PMJanuary 27, 2022 6:30 PMFebruary 1, 2022 6:30 PMFebruary 3, 2022 6:30 PMFebruary 8, 2022 6:30 PMFebruary 10, 2022 6:30 PMFebruary 15, 2022 6:30 PMFebruary 17, 2022 6:30 PMFebruary 22, 2022 6:30 PMFebruary 24, 2022 6:30 PMMarch 1, 2022 6:30 PMMarch 3, 2022 6:30 PMMarch 8, 2022 6:30 PMMarch 10, 2022 6:30 PMMarch 15, 2022 6:30 PMMarch 17, 2022 6:30 PMMarch 22, 2022 6:30 PMMarch 24, 2022 6:30 PMMarch 29, 2022 6:30 PMMarch 31, 2022 6:30 PMApril 5, 2022 6:30 PMApril 7, 2022 6:30 PMApril 12, 2022 6:30 PMApril 14, 2022 6:30 PMApril 19, 2022 6:30 PMApril 21, 2022 6:30 PMApril 26, 2022 6:30 PMApril 28, 2022 6:30 PMMay 3, 2022 6:30 PMMay 5, 2022 6:30 PMMay 10, 2022 6:30 PMMay 12, 2022 6:30 PMMay 17, 2022 6:30 PMMay 19, 2022 6:30 PMMay 24, 2022 6:30 PMMay 26, 2022 6:30 PMMay 31, 2022 6:30 PMJune 2, 2022 6:30 PM